Responsible Edible Consumption Guide:
Marijuana edibles are foods and drinks that are made with marijuana or marijuana oils. These can be made at home, like pot brownies, but producers can make and sell marijuana edibles in many forms:
What kinds of edibles may be available?
Foods:

This could include brownies, prepared cookies, take-and-bake cookie dough, cupcakes, granola bars, cakes, snack mixes, honey sticks, and more.

Drinks:

This could include pre-mixed sodas and juices, teas and other hot drinks, and flavored concentrates that can be mixed with other beverages.

Candies:

This could include chocolate, gummies and chews, hard lozenges, lollipops, marshmallows, jellybeans, fudge, and more.

Tinctures:

These are infused liquids made with alcohol, honey, or vegetable glycerin that can be consumed by holding under the tongue while the tetrahydrocannabinol (THC) is absorbed directly into the blood stream. THC is the chemical in marijuana that makes a person feel high. Tinctures also can be added to foods and drinks.

Oil or butter:

These infused products can be used at home when cooking or baking.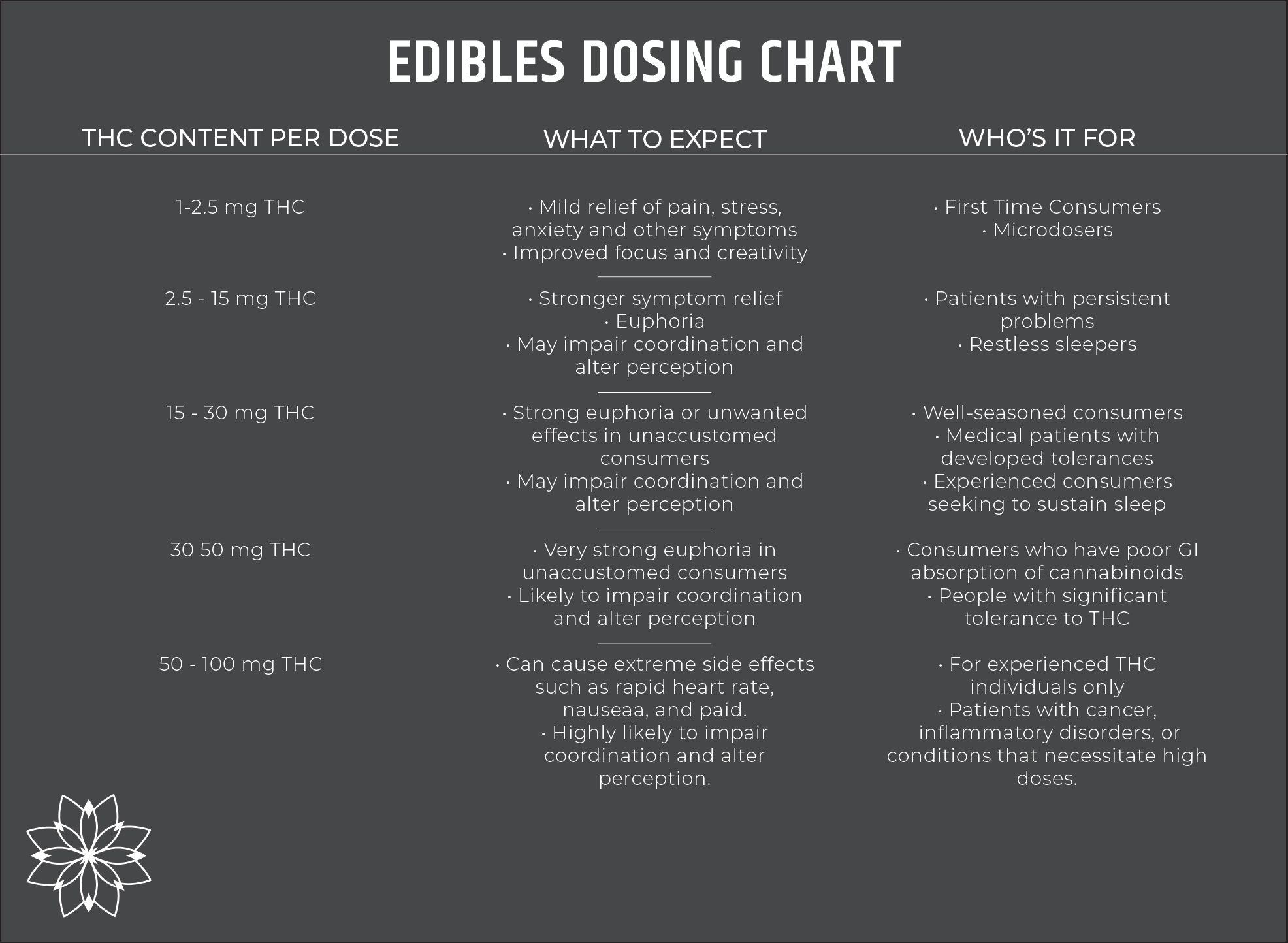 Start low and go slow!
Start with a single serving of 5 milligrams (mg) of THC, or even less. Don't eat or drink more of the marijuana edible until you have waited at least 2-4 hours. The effects from edibles can take hours to develop. Eating too much of a marijuana edible too soon may lead to unwanted effects.First-time users should be cautious:The effects of marijuana will vary person to person, and from one marijuana edible product to another.
Will consuming marijuana have a different effect than smoking or vaping it?
The high from smoking marijuana can often be felt right away. The effects from eating or drinking marijuana, however, can take minutes to hours to develop, and then last longer. The effects can depend on how much THC you consumed, the amount and type of other foods consumed, and if you also drank alcohol or used other drugs.
What if you're a first-time consumer of marijuana edibles?
Read the label:

Edibles are clearly labeled with the amount of THC in each serving, as well as the number and size of the servings in each package. Understand how much THC you will consume and how it could affect you. Start with a small amount (5mg or less) if you are not sure how you will react.

Take your time:

The high from marijuana edibles may take up to four hours to peak, and can last for up to 10 hours. You may feel fine for several hours after consuming a marijuana edible, then suddenly feel very high. Until you know how edibles will affect you, wait at least 2-4 hours after the first serving before consuming more.

Stay put:

Smoking, eating or drinking even one, 5 mg serving of a marijuana product may cause impairment, particularly for first-time and infrequent users. This can affect your ability to drive, bike, or perform other safety-sensitive activities. Plan ahead so you are in a safe place where you can stay until the impairing effects wear off.
Storage: Where should you store marijuana and marijuana edibles?
Always store marijuana edibles safely away from children and pets. Little bodies and developing brains cannot handle even small amounts of marijuana.Keep marijuana products in their original packaging so they are easily identified as containing THC. Keep them in a locked area. How you store marijuana should change as children get older. Safe storage around young children may not stop older children or teens.